DESIGNED FOR YOU. BUILT FOR YOU.
Combining exceptional style and sophistication with light control and shading, Oakland Plantation Shutters enhance your windows and enrich your décor like no other home shading products.
Known as Plantation Shutters because of their classic colonial influenced design, our window shutters are perfectly at home in any property and every room. From a contemporary townhouse to a country manor, from a lounge or bedroom to a bathroom or kitchen, Oakland Plantation Shutters always add class and a touch of distinction.
The Oakland range of Plantation Shutters is available in an extremely large choice of colours to match your interior decoration. And if you can't find just the shade you're looking for, we even offer custom colouring to ensure you can match your desired colour scheme.
All our plantation shutters are built locally in our carpentry factory in Woodlands.
A SOLUTION TO EVERY SPACE
High quality hardwood shutters are like furniture for your windows- especially when they've been custom tailored to the exact dimensions of your window and finished with a premium paint or stain that seamlessly integrates into your existing millwork.
Because we build our own hardwood shutters, we select only the finest basswood and use the highest quality premium furniture grade finishes. From casual to elegant or traditional to contemporary, the style of almost any room can be enhanced with our custom tailored hardwood shutters.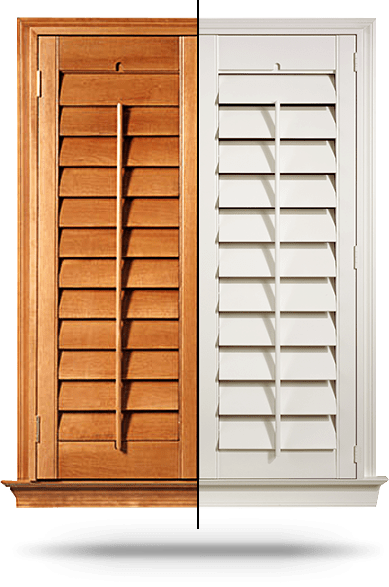 Reinforced Waterproof Vinyl Shutters
Our Horizon Shutters are the essence of durability. Our unique satin finish eliminates the sheen, often associated with vinyl, instead providing the superior appearance of painted wood.
The non-porous, waterproof material makes Horizon Shutters a great solution for bathrooms and kitchens- and other high humidity areas where moisture is a factor. Horizon Shutters provide a stylish alternative to hardwood.
Our retail consultants will guide you through the different options and propose solutions according to your requirements and lifestyle
An expert technician will visit your home at your convenience to take detailed measurements for each custom tailored shutter
Our draftsman will produce a computer draft drawing of the proposed shutter for your approval before fabrication
Our artisan craftsmen will fabricate your custom tailored shutter according to the approved draft drawing
Our expert carpenters will bring the custom tailored shutters to your home for professional installation
VISIT OUR EXCLUSIVE RETAIL PARTNER TODAY
LE SHOWPLACE RETAIL SHOWROOM
Address:
370 Alexandra Road
Anchorpoint #B1-33 (Opposite Ikea)
Singapore 159953
Tel: 6471 8161
Open Daily: 11.30AM – 7PM